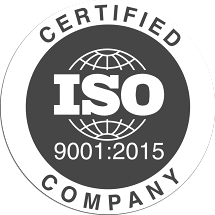 ISO 9001:2015 CERTIFIED
Stratitia, Inc. is an ISO 9001: 2015 Certified Company. At Stratitia, we have a relentless focus on the customer and continuous improvement. We've implemented the ISO 9000 family of standards in order to ensure quality in the services and products that we provide to our customers, through rigorous internal quality management and internal auditing procedures.
The ISO 9000 family of standards is related to quality management systems and designed to help organizations ensure that they meet the needs of customers and other stakeholders while meeting statutory and regulatory requirements related to the product. The standards are published by ISO, the International Organization for Standardization, and available through National standards bodies. ISO 9000 deals with the fundamentals of quality management systems, including the eight management principles on which the family of standards is based. ISO 9001 deals with the requirements that organizations wishing to meet the standard have to fulfill. [1]
Third party certification bodies provide independent confirmation that organizations meet the requirements of ISO 9001. Over a million organizations worldwide are independently certified, making ISO 9001 one of the most widely used management tools in the world today.
QUALITY MANAGEMENT PRINCIPLES
The standard is based on a number of quality management principles including a strong customer focus, the motivation and implication of top management, the process approach and continual improvement. These principles are explained in more detail in the pdf Quality Management Principles. Using ISO 9001:2015 helps ensure that customers get consistent, good quality products and services, which in turn brings many business benefits.
AUDITS
Checking that the system works is a vital part of ISO 9001:2015. An organization must perform internal audits to check how its quality management system is working. An organization may decide to invite an independent certification body to verify that it is in conformity to the standard, but there is no requirement for this. Alternatively, it might invite its clients to audit the quality system for themselves.
[1] Source: Wikipedia